A casual blind-date follow-up took an unexpected turn when an individual found themselves seated next to none other than Aespa Karina and her unnie. Overwhelmed by Karina's natural beauty, the observer couldn't help but notice how her real-life appearance far surpassed her on-camera charm.
As the evening unfolded, the observer's attention was captivated by the striking resemblance between Karina and her older sister, leading to a memorable and diverting experience. This account, shared on Instiz, sheds light on a remarkable encounter that left a lasting impression.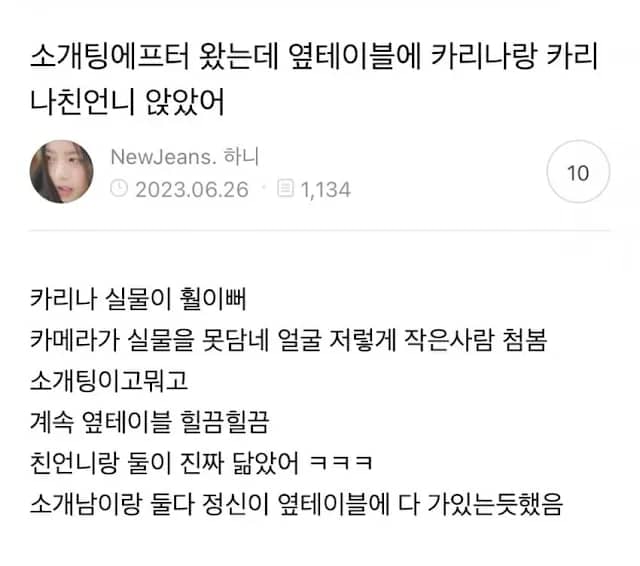 "I came for a blind date's follow-up date and Karina and her unnie were sitting next to our table.
Karina is way prettier in real life
Cameras don't do her justice. It's my first time seeing someone with such a small face
Blind date or whatnot.
I kept stealing glances at the table next to ours
She and her unnie looked so alikeㅋㅋㅋ
Both my date and my attention went to the table next to ours"
The account shared on Instiz captures a remarkable incident where a blind date's follow-up turned into an unexpected encounter with the Aespa Karina. The observer's firsthand experience of Karina's mesmerizing beauty and the striking resemblance between her and her Older Sister adds an element of intrigue to an otherwise typical outing.
This memorable encounter serves as a reminder of the enchanting allure of unexpected moments and the potential for chance meetings to leave a lasting impression.
On the original post, people left a variety of comments expressing their thoughts and reactions to the unexpected encounter with Karina and her unnie.
Here are a few notable comments:
Karina is more important than a blind date hahaha
It's true that my gaze goes to someone who's pretty but even if your was looking at herㅋㅋㅋㅋㅋㅋㅋㅋㅋㅋㅋㅋㅋㅋㅋㅋㅋ
isn't this supposed to be a follow-up date?
Karina is God
The blind date isn't important Anymore
Ah I also wanna see her in real life
How Will You React if Your Favourite K-pop star is set next to you?