K-pop girl group (G)I-DLE has announced two new dates for its ongoing world tour, "I am FREE-TY." The group will perform in Macau on October 14 and in Singapore on October 29.
(G)I-DLE kicked off its tour on June 17 and 18 with two sold-out shows at Jamsil Arena in Seoul, South Korea. The group has since performed in Taiwan and Bangkok and is scheduled to perform in Hong Kong this weekend.
The group's U.S. tour leg will begin on August 4 in San Francisco, followed by shows in Los Angeles, Dallas, Houston, Chicago, and New York City.
(G)I-DLE will also perform in Britain, the Netherlands, France, Belgium, Germany, and Japan in September.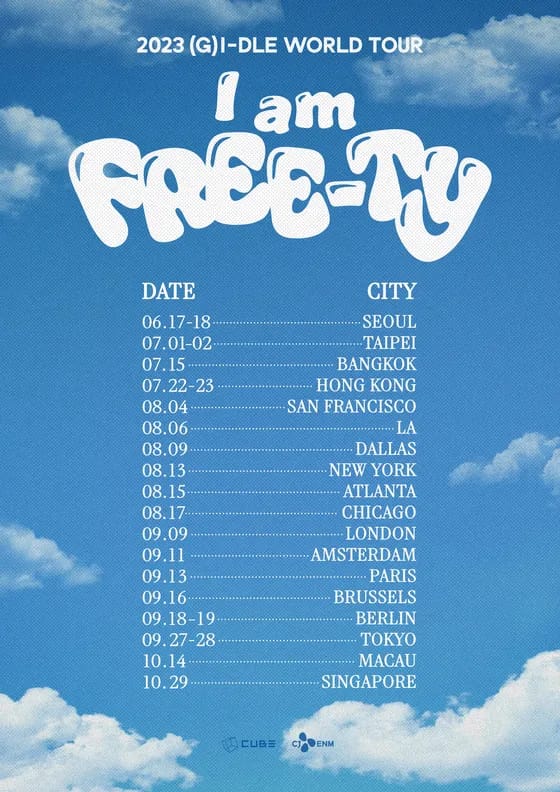 The group recently released its first U.S. digital single, "I Do." The song is the lead single from the group's upcoming EP, "I Feel," which is set to be released on May 15.
"I Feel" is the group's third EP and their first release since their 2021 EP, "I Burn." The album is produced by member Soyeon and features all six members of (G)I-DLE as co-producers.
(G)I-DLE is a South Korean girl group formed by Cube Entertainment in 2018. The group consists of Miyeon, Minnie, Soyeon, Yuqi, Shuhua, and Soojin. (G)I-DLE has released two studio albums, two extended plays, and eighteen singles. The group has won numerous awards, including the Mnet Asian Music Award for Best Female Group in 2019.