Jenna Ortega and Tim Burton are back together for the upcoming sequel to the 1988 cult classic "Beetlejuice." Ortega, who stars in Burton's Netflix series "Wednesday," was spotted filming scenes for the film in Hertfordshire, England.
Read More – Johnny Depp Open to Returning to Disney Despite Betrayal
In the photos, Ortega can be seen wearing a pure white bridal dress. She is joined on set by Winona Ryder, who reprises her role as Lydia Deetz from the original film. Michael Keaton also returns as Beetlejuice, and Monica Bellucci makes her debut in the franchise as Beetlejuice's wife.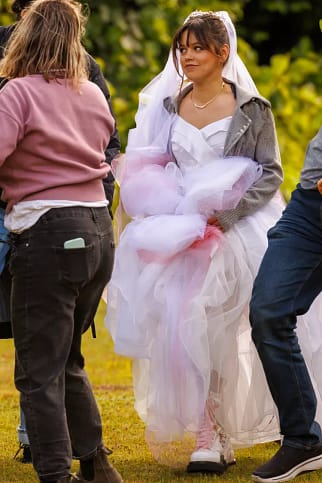 Warner Bros. will produce "Beetlejuice 2" and release it in September 2024. Burton will direct the film, and Smith will write it.
Ortega is no stranger to working with Burton. Moreover, She previously starred in his 2019 film "Child's Play." She is also a rising star in Hollywood, with roles in "The Babysitter: Killer Queen" and "Yes Day."
"Beetlejuice 2" is one of the most anticipated films of 2024. The original film was a critical and commercial success, and fans have been eager for a sequel for years. With Burton and Keaton back at the helm, "Beetlejuice 2" is sure to be a hit.