NFS Unbound is receiving the its Volume 3 update on June 20. While the game got good reviews on launch, the lack of content and support from the developers really hurt the game. Fans were disappointed that a good game was getting left out because of lack of concerns from the developers. Seems like the developers are mending these mistakes now. But is it too late? Especially considering Ubisoft is continuously pushing out updates for the Crew 2. Well, it all about later. Lets now just focus on all the things that will be present in the update.
Also read – Starfield Gameplay Trailer – Full Breakdown And Analysis
The Update contains multiple cars which are unlocked via different methods. For example, by ranking up the Speed Pass or Completing Playlists.
Legendary Custom Viper SRT can be unlocked by ranking up the Speed Pass. The Speed Pass also contains other items for customization. It also totally free so you don't have to spend anything if you want to get your hands on the sweet ride.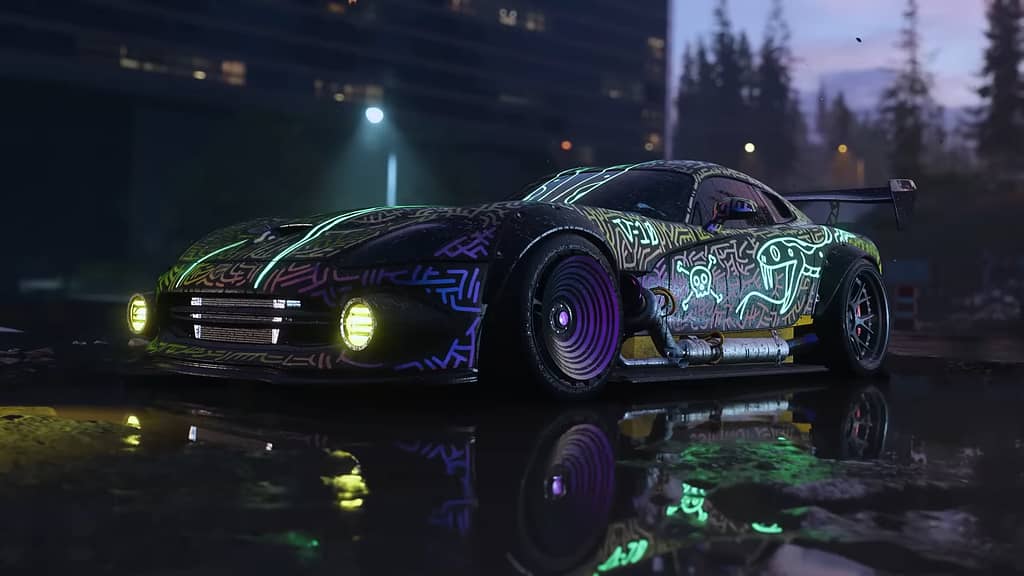 The update also brings new link up places in 7 locations. Upto 15 players can join in the multi player and complete challenges together. If you complete at least 12 of the link up challenges you can get your hands on a 1981 DMC DeLorean.
The 1993 Nissan Skyline GTR V-Spec will be available in the garage for EA Play members.
DLC Packs and Items
Now the next cars can only be unlocked through DLC. The First of which is the Robojet Premium Swag Pack. The pack contains Clothing, Driving Effect and a horn. But most importantly, it contains a sick looking Legendary Customs RX-7 2002.
The Ford Mustang GT Legendary Customs Pack contains a 2015 Legendary Custom Ford Mustang GT. It also contains Custom Body And Livery for the Mustang GT,10-Level Speed Pass Boost and 10 Customization Items.
The Volume 3 customs pack contains 3 amazing cars. 1975 Volvo 242 DL, 2008 Mitsubishi Lancer Evolution X, 2016 Volkswagen Golf GTI Clubsport.
Quality of Life Improvements
Along with content add-ons, Multiple Quality of Life improvements and big fixes are done.
Vehicles awarded via EA Play Membership, Purchased from the in-game Store, or awarded as part of Speed Pass, will be available to use in your Single Player garage after completing the prologue. Previously these were only available in Lakeshore Online
Reduced the chances of getting into another chase immediately after a successful escape
Screen Space Reflections are now enabled for cars on Ultra graphics quality on PC
Intel XeSS 1.1 added as an Upsampler option on PC
Improved road reflection quality by including distant buildings
Improved CPU performance on PC
Reduced VRAM usage on NVIDIA 40 series GPUs on PC
Nvidia DLSS updated to version 3.1.11 on PC
AMD FSR 2 updated to latest 2.2 on PC
Increased the rewards for escaping and assisting in a cop chase.
Different cop vehicles are now worth different amounts of cash when taken down in cop chases, instead of a single value that applied to all cop cars.
Players who purchased the Deluxe Edition will be awarded $250,000 per volume update as a thank you cash boost!
Subtitles text size can now be changed from three presets. The backing opacity and colour can also be adjusted
Players can now change their default time of day in Lakeshore Online. This setting only affects Free Roam – events in playlists have their own defined time of day
Players can now teleport to Safehouses and Meetups when not in a cop chase. Perfect for quickly getting around map, or swapping cars before the next Linkup
Campaign
Fixed an issue that allowed the player to hide the UI in the campaign calendar, leading to a broken camera
Fixed an issue that caused the player to lose campaign progress when the PS5 is forced shut
Fixed a number of clipping issues with Vehicles
Fixed an issue that caused the player to spawn inside the garage after the prologue
Fixed an issue that caused the initial campaign car select vehicles to have coloured windows
Fixed an issue that occasionally spawned the player in freedrive instead of the tutorial after selecting a car
Fixed an issue that caused the safehouse description to not update after purchase
Fixed an issue that allowed players to sell their first vehicle in campaign, leaving them with no cars
Fixed an issue that caused the Milestone 1 meetup icon to appear during the qualifier races
Fixed an issue that allowed the player to receive two starter vehicles if they close down the game immediately after car select sequence
Fixed an issue that showed rivals as available to beat in the UI even if they have already been beaten
Fixed an issue that caused police helicopters to run out of fuel whilst the game is paused
Fixed a campaign exploit that allowed the player to replay the Week 3 qualifier
Fixed an issue that occasionally caused no Audio SFX to be triggered when accepting a phone call mission
Fixed an issue that caused AI rivals name cards to sometimes obscure the players view
Fixed an issue that caused all collectable bears to reappear in the world when progressing to the next day
Fixed an issue that caused Cop roadblock items to persistently show up on the map even when progressing to the next day